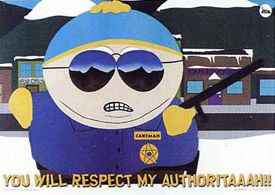 Ok, before retrieval, I promised myself that I would avoid POAS-ing. I didn't want to get all excited over a false positive, or be all depressed over an early negative (which I know I will, even though I like to say I won't.)
However, that was before I was aware of the pure HELL of the 2WW. Man alive, does this suck. I don't know if I can live like this for another seven days. That's right, beta is 4/14 - an entire week away. I'd love to remain blissfully ignorant for another week, blowing kisses to the embryo photo on my fridge, rubbing my belly for extra encouragement, and checking the toilet paper for any spotting; but at the same time, I can't take this wait.
Is it to soon? Should I wait a few days? Should I wait till beta? I need some talking down from the ledge!
*yes, another South Park pic - can you tell I'm a fan?